Brace for Impact was Stellar Dawn's first teaser trailer and was released on 10 August, 2010. It has been viewable on the Stellar Dawn homepage since it was released. It describes events of a ship "Colonius" being attacked by an extraterrestrial source. It's currently unknown whether the trailer will be integrated into the canon of Stellar Dawn or left merely as pre-release material.
The temporal offset of the transmission is 51 years, two months, fifteen days, sixteen hours, 23 minutes, and four seconds.
The ship is described as being in the Herschel system, likely named after famed German astronomer Frederick William Herschel.
Crew members are described as having "completed Level Seven skills" in the video.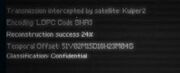 Ad blocker interference detected!
Wikia is a free-to-use site that makes money from advertising. We have a modified experience for viewers using ad blockers

Wikia is not accessible if you've made further modifications. Remove the custom ad blocker rule(s) and the page will load as expected.